Beth Nash has joined the Waupaca Area Chamber of Commerce as the Director of Inspire Waupaca County. Beth will be coordinating with Waupaca County Schools and Businesses to create career-based learning experiences and job opportunities for students in the county.
Beth came to us from Fort Myers, Florida where she was the Director of Business Development at Amavida Living and prior to that, the Resort Services Manager at Shell Point Retirement Community. Beth brings over fifteen years of marketing and networking experience, as well as the can-do attitude necessary to build the Inspire program from the ground level in Waupaca County.
"We are very fortunate to be able to offer the Inspire WI program to our employers and students in Waupaca County. For students to be able to make connections with our employers, research careers, and talk with people in those careers, this can make such a difference in their career choices. We believe Beth is the perfect person to bring this program to life in Waupaca County. We are excited to have her as a part of our team and look forward to the many accomplishments and successes with Inspire WI." -Terri Schulz, President/CEO of Waupaca Area Chamber of Commerce and Waupaca Area Chamber Foundation.
The Waupaca County Inspire program is an initiative of the Waupaca Area Chamber of Commerce, New London Area Chamber of Commerce, Clintonville Area Chamber of Commerce and the Waupaca County Economic Development Corporation. Working in collaboration and with the support of a grant from Tim and Joy Neuville, the program is able to move forward.
"Inspire represents an approach to teen workforce training that centers relationship-building between employers and students as the key to an effective talent pipeline within our county. After talking to both the Chamber and School administration, they both felt this could be a game-changer in keeping our students in our area as they graduate. Joy and I are committed to continue to do our part in making Waupaca flourish. We will always be thankful for everything the community has done for our family and are proud to call Waupaca home." -Tim Neuville, Neuville Motors Waupaca.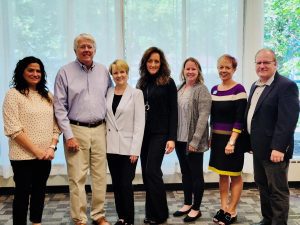 To learn more about Inspire Waupaca County, please visit www.inspirewi.org or call Beth at the Waupaca Area Chamber of Commerce. 715.258.7343.
Pictured L-R: April Kopitzke, Executive Director, New London Area Chamber of Commerce; Tim and Joy Neuville; Beth Nash, Director, Inspire Waupaca County; Emily Grosskreutz, Executive Director, Clintonville Area Chamber of Commerce; Terri Schulz, President/CEO, Waupaca Area Chamber of Commerce and Waupaca Area Chamber Foundation; Jeff Mikorski, Executive Director, Waupaca County Economic Development Corporation