Whether you are looking to start a business or looking for help with your current business, looking for a new career, move here or maybe vacation here, the Waupaca Area Chamber can help.
Community Profile: Information on the community
Starting a Business: Helpful links to find the information to start a business
Looking to Move here: Find out all about our community
Community Profile - Waupaca
Location: Located in east central Wisconsin, the City of Waupaca offers a central location with close proximity to main regional and metropolitan areas of Wisconsin and the Midwest.
30 miles east of Stevens Point, 40 miles west of the Fox Cities, and 70 miles west of Green Bay
2 hours from Milwaukee and Madison
4 hours from Chicago and Minneapolis-St. Paul


Transportation:
Four major highways intersect in Waupaca including US Highway 10 (a major east-west route from Lake Michigan to the Twin Cities), and State Highways 22, 54 and 49. Interstate 39 is only 20 minutes to the west, while US Highway 41 is just 30 minutes to the east. Highway 22/54 bypass, on the City's east side, provides an efficient connection between State Highway 22/54 and US Highway 10.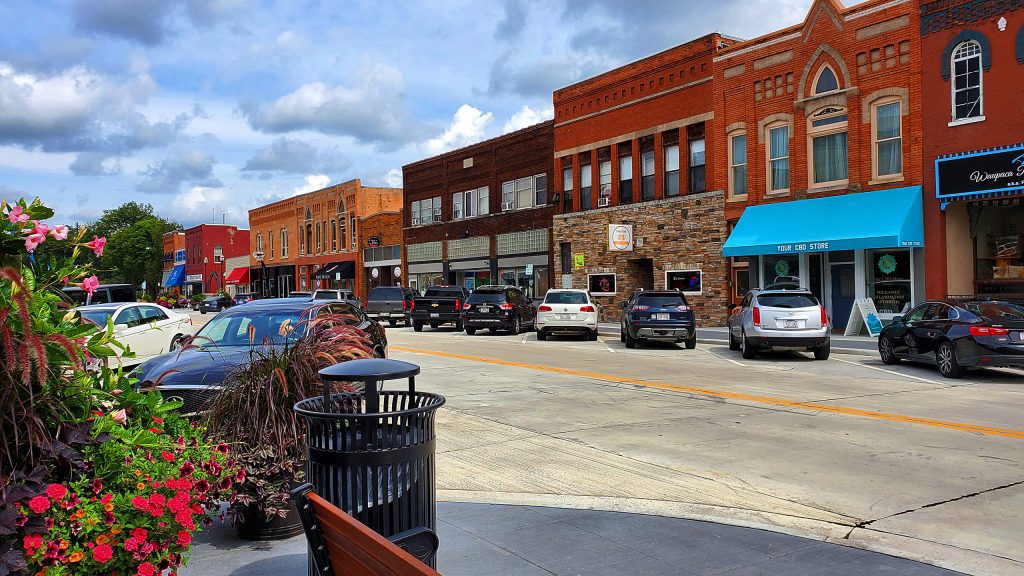 The Waupaca Municipal Airport serves corporate jets, small passenger and cargo jets, and small airplanes used in consumer air service. There are 2 paved runways: one 5,200' x 100' lighted and one 3,899' x 75' unlighted. Both Jet A fuel and 100LL fuel are available at the airport 24 hours-day. Services at the airport include hangar facilities and tie downs, courtesy car, pilot's lounge, aircraft charters and leasing, meeting facilities, and even flight lessons courtesy of fixed-base operators.
Waupaca is served by two LTL and truck terminals, two interstate carriers, and 11 intrastate carriers. It is also served by the Canadian National Railroad which travels through the north part of the City. Daily switching service is provided, while the distance to the nearest piggyback service is 28 miles.
Tourism: With a residential population estimated at 6,047, the summer seasonal population is estimated to be five times that at approximately 30,000. With 45% of City land open spaces, including 16 public parks, Waupaca offers a variety of activities drawing visitors from across the Midwest. Allowing for a variety of water activities, Waupaca is also the base for the well known spring fed Chain 'O Lakes which is comprised of 22 lakes and a total of 728 acres. The Waupaca area offers five public golf courses, 14 tennis courts, two public swimming beaches, one indoor recreation complex, one country club and one state park.
Manufacturing: Manufacturing plays a crucial role in the economic vitality of the City of Waupaca and Waupaca County. In the County manufacturing is the second highest employer by standard industrial classification (SIC) at 22.89%, second only to services at 34.26%.
This listing of other organizations or Government agencies is to help you with permitting, licensing, topics and issues of owning or managing a business. The Waupaca Area Chamber is here to help but we always want you to go directly to an expert if needed. If you are not sure of where to find the answer or find help please contact the Waupaca Area Chamber for assistance.

State of Wisconsin Department of Workforce Development – All matters concerning your workforce


Wisconsin Department of Administration – Business development resources
Green Bay WI
608. 235-8631


Wisconsin Department of Revenue – Licensing and permits
2135 Rimrock Road
Madison WI 53713
608.266.2772


Wisconsin Department of Safety and Professional Services – Licenses, Permits and Registrations


Small Business Development Center – Assisting Startup and Existing Businesses
WSP Continuing Education
2100 Main Street, Rm 032, Stevens Point, WI 54481
715-346-2288


School Data Tool – The School DataTool provides data on key education metrics for school districts throughout Wisconsin. The Data Tool also has a feature that allows users to easily compare peer districts on these metrics, which range from enrollment and school spending to graduation rates and student performance.

Fox Valley Technical College – Training and Services
Waupaca Regional Center
979 Godfrey Drive
P.O. Box 467
Waupaca, WI 54981
715-942-1700 or 1-888-324-3218

Appleton Campus

1825 N. Bluemound Drive
P.O. Box 2277
Appleton, WI 54912-2277
920-735-5600 or 1-800-735-FVTC (3882)

Venture Center – Entrepreneurship offerings available, from classes to business planning assistance and even prototype development.
5 Systmes Drive
PO Box 2277
Appleton WI 54912-2277
920.996.2949


CAP Services – Small Business Assistance
5499 Highway 10 East, Suite A, Stevens Point, WI 54482
715-343-7500


Waupaca County Economic Development Corporation – Business assistance
Dave Thiel
(920) 982-1582


WMC – The Wisconsin State Chamber of Commerce, the Wisconsin State Manufacturing Association and the Wisconsin State Safety Council.
501 E Washington Avenue, Madison WI 53703
608.258.3400


US Chamber of Commerce – The world's largest business organization representing the interests of more than 3 million businesses of all sizes, sectors, and regions
1615 H Street, NW
Washington, DC 20062-2000
Main Number: 202-659-6000
Customer Service: 1-800-638-6582


CO
A digital platform that helps business owners solve problems and grow their companies.


The New North – A nonprofit regional marketing and economic development organization fostering collaboration among private and public sector leaders throughout the 18 counties of Northeast Wisconsin.
600 N Adams St, Green Bay WI 54307
920.336.3860


City of Waupaca
Aaron Jenson, City Administrator
111 S Main St, Waupaca WI 54981
715.258.4411